Crufts takes place each year and attracts thousands of people from all over the world. The event takes place over four fun-filled days in Birmingham's NEC arena and is expected to attract in excess of 100,000 dog-lovers and over 20,000 canine entrants.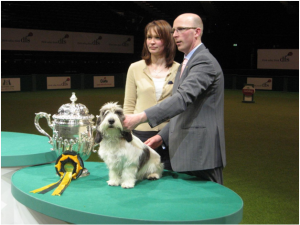 Here in the UK, we are a nation of pet lovers and dogs are at the top of this list. Millions of pounds are spent each year on pet industry products and people often have items such as Bronze Animal Sculpture or other momentum style items such as the ones you can see at www.gillparker.com adorning their gardens and properties in memory or celebration of a beloved pet.
History of Crufts

The very first Crufts took place in 1891, and it was originally hosted in London. The show moved to Birmingham in 1991 – the year of its centenary – and has remained there ever since. The show was founded by Charles Cruft, a traveling salesman who had previously promoted the Paris Exhibition canine section and managed the Allied Terrier Club Show in London. He eventually decided to launch his own canine event, and the first Crufts attracted an impressive 2,437 entrants. Today, however, around 22,000 dogs take part, and the event attracts 140,000 spectators. A further 2.5 million dog-lovers watch on television in the UK alone, and the show attracts international attention, with people traveling from numerous countries to attend this much-loved event.
When does Crufts take place?

Crufts takes place in March each year and a number of different events take place over each day. There will also be an obedience ring taking place each day from 8:15 am.
Visiting Crufts

Tickets are priced between £18 and £26, and it's free for children under the age of eight. The Crufts website has extensive information about getting to Birmingham and the NEC arena specifically to help with your visit.
In addition to comfortable and reasonably priced accommodation, you will find many pubs, bars and restaurants in Birmingham for pre or post-Crufts refreshments. There are also great transport links with the Midlands region and the rest of the country beyond. If you are unable to make it to Crufts to watch the show in person, highlights of each day will be broadcast on television, with some segments shown live so you can be sure to catch your favorite section.