The Singapore Grand Prix has been a staple on the Formula One calendar for a number of years and actually dates back to 1961 when non-championships races were first held there. The track was originally known as the Orient Year Grand Prix before it was renamed in 1962 as the Malaysian Grand Prix. Following on from Singapore gaining its own independence in 1965 the track was once again renamed as the Singapore Grand Prix and the name has remained ever since.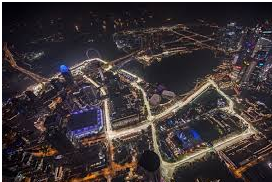 Following on from a number of fatal accidents in both 1972 and 1973 the Formula One race was no longer held at the track and instead returned as one of Formula One's first night races on a city track. The first race of this kind was held in 2008 after a five-year contract was signed between Formula One and Ong Beng Seng. The race was won by Fernando Alonso but subsequent reports cast a shadow over this victory after Nelson Piquet revealed that he was ordered by his team boss to deliberately crash his car in order to instigate the safety car coming on to the track. This act helped Alonso who was reportedly low on fuel to then go on to win the race. A hear found both drivers innocent enough to escape any kind of penalty from the Formula One executives. However, the team received a two-year ban and their boss Flavio Briatore was banned from the sport for life and the technical director Pat Symonds received a five-year ban. This was not the controversy that the Singapore Grand Prix wanted to be a part of in its returning year.
The street circuit is unique in Formula One in that the safety car has been issued for every single race that has been held at the venue so far. The harbor-side road is a total of 5.065 kilometers in length and is very similar to the Monaco track.
Formula One is reported to be due to continuing at the track until 2021 following a contract extension. We will have to wait and see whether this is renewed for future years. If you want to experience the thrill of this track in luxury in what could be some of the final years that the race appears in this location you may want to look at the F1 Paddock Club Singapore that is available from places such as https://edgeglobalevents.com/f1-paddock-club/f1-paddock-club-singapore. You can then sit back and watch all of the action in luxury.